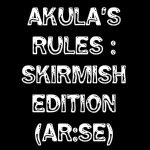 I've just setup a dedicated page on my blog, for the different variants of AKULA's Rules:Skirmish Edition (AR:SE) - you can access it, by clicking on the image on the right-hand side of this page.
In addition, to the "Total AR:SE" Zombie rules,you will also find "Half-AR:SE'd", the version that was used for the Hasslefree participation game, in 2010.
I will add other variants, as and when they are ready, to the page, to provide a complete load of AR:SE rules.