A good friend and I ran a participation game for Hasslefree Miniatures this weekend at Old Glory, Derby.
The game, set in an underground research facility, featured a number of Hasslefree Adventurers (Painted by Ben Brownlie), Zombies, Aliens and Hazmats (painted by Kev White). The terrain boards were built by Bungle, and the resin terrain pieces came from Antenociti's Workshop, and Fenris Games (who also provided the clear figure bases). The rules used were a modified version of my AR:SE zombies rules - this version is called..."Half AR:SE'd" - I aim to get the rules set up on here to download in the next week or so.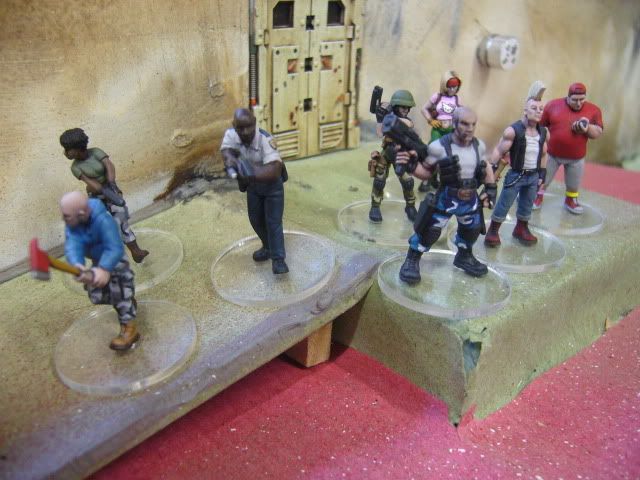 One of the features of the game, was that the Adventurers could "upgrade" their figure mid-game - six by equipping themselves with assault weapons and body armour, and the other two, by undergoing a mutation, to become stronger. When they did so, we replaced the figures, with the equivalent upgraded miniature (which Hasslefree released earlier this year).
All of the games were set against the clock - players had an hour to escape the complex.
Unfortunately this was easier said than done - if the adventurers manage to kill/evade the zombies, and Mawes (dog-like aliens), they still had to face the Mesaan warriors (pictured below).
Shortly after the players entered the complex, several teams of Hazmats follwed them onto the table, to eradicate all life in the complex (including the adventurers).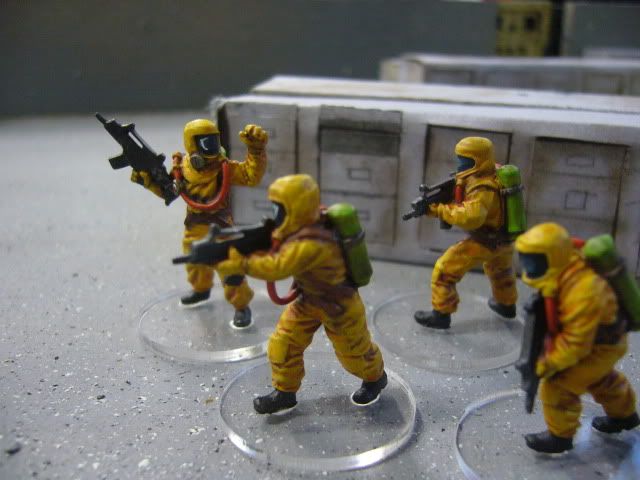 Over the two days we managed to play 5 games, with a total of 32 players (of which 10 played the hazmats) - 6 managed to escape, with a further 11 still alive when the time ran out, but trapped in the complex. Hopefully the game drummed up some extra interest for Hasslefree, as their customer service, and miniatures are second to none IMHO.
An added bonus, was that the game received a "Highly Commended" from the show organisers.